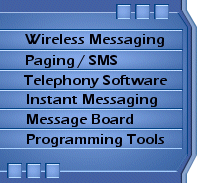 G-Lock EasyMail
G-Lock EasyMail is a powerful group mailer which sends your message directly from your PC to the recipient's mail server (without using any ISP's SMTP server). This takes the load off of your mail server and speeds up message sending significantly.
Group Mail b
Email list management and distribution system. Support for most popular email address book formats - importing address books and distribution lists is now a matter of point and click.
Advanced Maillist Verify
Mailing lists and address books verifying to determine which of email addresses are dead. The program is multithreaded, so high speed of verifying is provided. Supports ODBC SQL and works with Socks5 proxy (to use in LAN). COM/ActiveX interface and CGI/ISAPI modules allows to integrate it into your own web pages and software; samples for ColdFusion, MS IIS, VB, VC++, Delphi are provided.
LightningMail
LightningMail is a professional-quality application for managing and sending out large mailing lists. Messages can be personalized (both subject and body) for the specific recipient and may contain HTML code and dynamic tags through it's own plug-in system.
Advanced Email Verifier
Keep your mailing lists and address books clean with this powerful tool that eliminates non-working email addresses reliably.
Email Sender Express
is a high speed direct email sender program effectively and without any delay .
LiteMail
LiteMail is a fast, lite and easy to use Bulk Mailer. It supports mail merge, attachments, HTML, several list management features and more. You can import existing mailing lists from comma separated files, Windows Address Book as well as Access databases (.mdb). List management functions include sorting, cleaning and search. You can send the messages, using your ISPs SMTP server, Sprika supports authentication, in case your ISP requires it. The program also supports basic email merging, allowing you to customize the message with the current date, the recipients email and more. Great, inexpensive mass mailer for basic email lists.
Advanced Direct Remailer
Powerful remailer which sends your message straight out to the recipient's mail server. ADR realizes multi-threaded direct delivery, and so works several times quicker than usual email client. The program has its own internal SMTP server, and can be easily intergated into any email client.
no photo available

emailMax
all the lists that an e-mails address is subscribed to from one window. Once click ads or delets from any group. Mail merge in subject line and text via individual or e-mail list grouping. Manual or Automated subscribe and remove from each list. Retreive from one or multiple e-mail accounts with one click. Automated follow up from date of subscription to the list. Name, mailing address, shipping address, city, state, zip, phone, fax, email are all at your fingertips. No server required, this runs from your desktop.
no photo available

ListMate Pro
Indispensible and innovative tools to manipulate and organize your email lists in any way you could ever imagine - no matter what the size - at warp speed. ListMate Pro means POWER!
Xtreme Mail Xpert
a mailing list server, email forwarder, auto responder, opt-in mailer and more in a single package.
no photo available

Advanced Email Parser
Software for processing incoming E-mail messages. AEP is helpful to build automatic order form processing systems or intellectual answering machines. User-friendly visual editor and tools for debugging processing algorithm. Work with databases and any files; powerful built-in programming language with COM/ActiveX (JScript, VBScript, Perl) automation support; flexible plug-in system. .
Bmail
BMail is a powerful, easy to use mailing list manager that allows you to run unlimited opt-in emailing lists. Send personally customized messages to your customers, subscribers or friends. Quickly de-duplicate, add or remove emails from your list. Built in SMTP server sends your emails automatically.
Atomic Mail Sender
powerful program to send personalized bulk mail. Easy interface, unlimited number of recipients, really rapid speed. The program delivers e-mails directly to mailboxes without using ISP mail service. It has built-in SMTP server and doesn't depend on any other installed software.
BroadC@st
Broadc@st HTML is the most effective way to send and manage your bulk email campaigns. MailWorkZ has taken Email Marketing to new heights with its powerful relationship Marketing Tool, Broadc@st HTML. Using the power of advanced design tools, easy-to-use interface and campaign management features, you can send your bulk e-mail campaigns, newsletters, weekly specials, support tips or marketing messages in an effective and efficient manner.