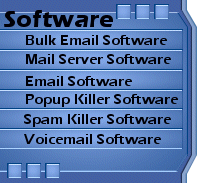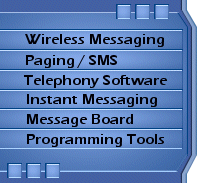 Instant Messaging Software
no photo available

Vypress Messenger
Allows sending and receiving of text messages (up to 32 KB) over local area networks, VPNs and the Internet. The program operates using modern TCP/IP protocols and also allows users to receive messages over standard SMB protocols as found in applications such as WinPopup, 'net send', and others.
no photo available

Secure Network Chat
especially designed to work with medium and large local area networks, but it is also convenient for small local networks consisting of two and up to several dozens of computers. Due to SNC, your employees will be able to exchange text messages and files and to discuss different items together with several colleagues simultaneously without leaving their working places.
no photo available

Natural Born Chatter
Natural Born Chatter is a text chat solution which was designed specifically for small and medium local area networks. It doesn't require an Internet connection or a dedicated server, because it utilizes your network, enabling your staff to prioritize and communicate effectively. This program makes it easy to simultaneously exchange files, clipboard data, and text messages. Best of all, your users will have equal access to all of the tools and functions. This program is so easy to use and customize that your whole staff will be exchanging text messages with groups and individuals in no time.